/

/

GenuWine Tasting Room: Two friends pursuing their dream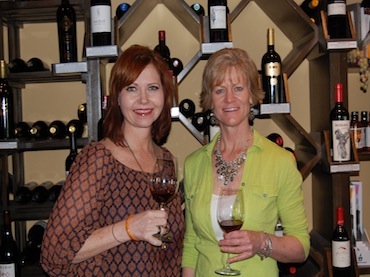 THE WOODLANDS, Texas--In 2010, Rhonda Redmon and Barb Salinas were career women, neighbors and best friends. When a friend mentioned that they should open their own wine bar, Redmon and Salinas were quick to jump on the idea. Now, four years later, Genuwine Tasting Room is well known in the community and has an ever-changing selection of unique wines, complete with delicious food and live music.

When Redmon and Salinas decided to start a wine bar, they were originally going to purchase a franchise. However, when they found out that they couldn't decorate the space the way they wanted and that live music wasn't allowed, Redmon and Salinas made the decision to start their own original tasting room.

The two friends did not have any past experience with the wine business, although they shared a love for wine. They credit their wine representatives for helping them get through the first year.

"We knew we were both really good at drinking wine, but we didn't have any experience," laughed Redmon. "It was like a trapeze with no net. Our representatives were very instrumental in helping us open this place."

However, Redmon and Salinas learned quickly. They turned GenuWine into a unique and successful wine bar unlike any other. The two best friends turned business partners truly have a passion for wine and their business. Conveniently located in between The Woodlands and Magnolia, the quaint tasting room is lined with wine bottles on the outer walls and has plenty of seating indoors, as well as an outdoor patio.

"GenuWine is ever-changing and is always different," said Redmon. Our boutique wine wall is never the same. About 90% of our wines can't be found at local stores, and we try to talk to wine makers that sell at least 300 cases or less."

The clever name for the wine bar came from Salinas when she on a plane reading a magazine. She saw an ad that said, "genuinely the best product." The more she started thinking about it, "genuine" turned into "genuwine."

"That name has been a huge marketing plus for us because it is so unique, and we are genuinely so different," said Redmon.

In order for their customers to try all of the different wines that are at GenuWine, Redmon and Salinas created a wine club that features two bottles every month that members can take home. Also, two red wines and two white wines are pulled from the wall every single week, and club members can try each one for just $3.

"We have about 248 wine club members right now," said Redmon. "It is $40 a month, they can bring two bottles home, and they get a discount on the wine here as well. It has been very successful."

A new feature that GenuWine has had for nearly a year now is the craft beer wall. Beer is also availiable on tap, allowing wine and beer fans alike to find something they all enjoy at GenuWine Tasting Room.

Customers also don't want to miss out on the delicious food at GenuWine. Redmon loves to cook, and many of the items served are her very own recipes. The menu offers sandwiches, pizza, salads, desserts, and several different cheese flights that pair wonderfully with wine.

Live music is featured at GenuWine each week on Thursdays, Fridays, and Saturdays. Redmon and Salinas knew from the beginning that they wanted to have live music at GenuWine, only adding to their unique atmosphere.

"The first year we opened, I had to beg people to perform here," said Redmon. "This year, I am already booked through July. I choose a lot of Jazz and Soft Rock, and Country Western every once and a while."

On Saturday May 3, Russell Boyd, also known as The Piano Guy, will be performing from 7:30pm-midnight. The singer and comedian plays music like Elton John, Billy Joel, and many more. There is a $15 cover charge for this performance, and reservations can be made ahead of time.

Redmon and Salinas are frequently at the wine bar interacting with their customers.

"Everyone knows your name here. This is a family-owned store," said Redmon. "Barb and I are best friends, and everyone here is family. I think that makes a huge difference. We are laid back, have great live music, and the food is wonderful."

With Mother's Day nearing, GenuWine makes stunning wine baskets that would make the perfect gift. To learn more and to view different basket options, click here.

GenuWine Tasting Room is located at 6503 FM 1488 #401 behind Chic-Fil-A. The hours of operation are listed below.


Sunday: CLOSED

Monday: CLOSED

Tuesday: 11:30am-10:00pm

Wednesday: 11:30am-10:00pm

Thursday: 11:30 am-11pm

Friday: 11:30 am-11pm

Saturday: 3:00pm-11pm

Four years ago, Rhonda Redmon and Barb Salinas pursued a dream that has turned into a successful business and a top-notch wine bar that recently took first place in their category for Best of The Woodlands.

"We are really good at wines, we have excellent customer service, our music is phenomenal, and our staff is incredible," said Redmon. "We have done a lot of things right."

For more information on GenuWine Tasting room, visit the website below or call at (832) 934-2675.