/

/

Fight for a Cure at GenuWine Tasting Room, fundraiser set for March 28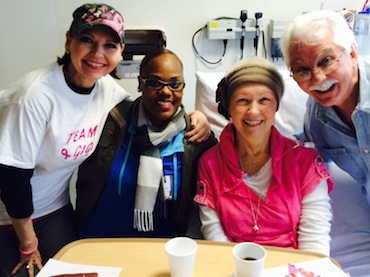 THE WOODLANDS, Texas – GenuWine Tasting Room is searching for community support – inviting guests to a fundraiser benefiting Team Bosom Buddies, a group heading to Avon's Walk to End Breast Cancer.
The wine bar hosts March 28 fundraiser for Avon Walk Team Bosom Buddies
The event is slated for 2 to 6 p.m. on Saturday, March 28, at the popular wine bar in Magnolia located at 6503 FM Rd 1488 #401.
The fundraiser is free and open to the public. All proceeds from a raffle will be given to Team Bosom Buddies, as well as a percentage of proceeds from sales at vendor booths.
The raffle will include a number of items – a spa basket, a man's basket, a wine basket, a session from Body Bright, a gift certificate for nails and a gift certificate for Planet Beach. Tickets are $2 each or three for $5. Guests who purchase 50 tickets or more will receive a bottle of wine as a thank you gift.
There will be a separate raffle for a Fuller's Epiphone Hummingbird Pro acoustic electric guitar. Tickets are $5 or six for $20. For those who cannot make it to the event, raffle tickets are available from now until March 28 at GenuWine. Winners do not have to be present to take home a prize.
Guests will also enjoy live music and playing the "Bra Pong Game."
Team Bosom Buddies is walking in support of Joan Phillips Holst Fuller, mother of GenuWine's co-owner Rhonda Redmon.
Redmon explained that only a few months after her mother had a healthy mammogram, a lump was discovered. Soon after that, the cancer had spread to Fuller's lymph nodes.
Redmon said her mother fought her battle and maintained a positive focus. When Fuller had to shave her hair, for example, Redmon made the event into a party, popped champagne, invited friends and then took her mother wig shopping.
Fuller has now finished chemotherapy and is starting to undergo radiation treatment. As she celebrates the end of chemo, Fuller has been reaching out to others, asking her friends to get their mammograms. Three women in her circle followed her advice and discovered cancerous cells.
Redmon said that by hosting the event at GenuWine, she hopes to raise awareness in the community. "We've got to find a cure for this," she said. "So many women are suffering due to cancer. We've got to put a stop to it."
She encourages guests to stay into the evening to enjoy wine, craft beer and dinner while listening to live music by Sam Jenkins.
"It's going to be an all-day party," Redmon said. "Everyone will have a great time."
For more information about the fundraiser and the wine bar, visit the link provided below.